Data and AI for Social Impact
We support Leiden University and its partners to enact social change and reconsider educational support using data and artificial intelligence (AI). We pilot data-driven solutions to societal challenges, and take into account the human aspects of data such as ethics, privacy, and transparency.
Data Responsibility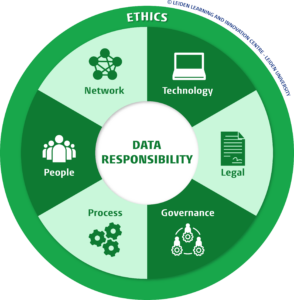 To maximise the use of data for social impact, we recognise we must protect the people behind the data and take a transparent and responsible approach to data use. Data Responsibility is the principle that guides our projects and ensures that we minimise any risks associated with data-driven technologies, while maximising our ability to explore possible opportunities. We analyse risks and provide guidance for data responsibility in different contexts by applying our Holistic Data Responsibility Framework.
State-of-the-art AI
We utilise the latest AI techniques to assist and advise organisations in their work. Our current focus on Deep Learning, one of the largest and most powerful techniques within AI, applies varying domains from Natural Language Processing (NLP) to Computer Vision (Image Classification and Segmentation). We stay aware of the latest developments in this field and adapt these techniques to the relevant domain.
In addition to Deep Learning, we readily explore and develop custom technologies and techniques for partners. The following examples highlight some of how we're currently applying AI for social impact.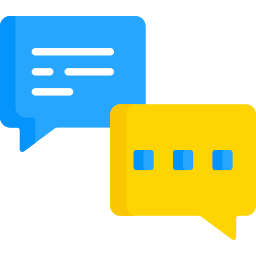 Language Understanding
We use language understanding technology to make connections between people by unearthing crucial insights from seemingly overwhelming datasets. Our expertise in social network analyses allows us to investigate conversational AI in order to search for connections between people and other entities of interest.
Related Projects
We used chatbot technology to connect to people in remote communities, such as

farmers in Peru

who inquire about real-time wholesale food prices.

We worked with Radio Dabanga (Free Press Unlimited) to develop a chatbot for listeners to report news events and receive news updates in return collecting over 2,000 daily messages in Sudan.
Geospatial Data Exploration
This work includes state-of-the-art deep learning techniques and designing complex filter systems and data visualisations to help partners search for vital information with geospatial information. manipulate the wealth of valuable data available from maps and satellite imagery. Current projects include mapping places of interest in remote and conflict-affected areas, such as cultural heritage sites and using geospatial data techniques to classify rooftop space for alternative uses in Rotterdam, NL.
Related Projects
Our work with the International Commission on Missing Persons (ICMP) to explore how well machine learning can

predict the locations of mass graves.

We work with Space4Good to classify rooftops using satellite data to assess its suitability for sustainable urban & land development.

Data-Driven Knowledge Exploration
Knowledge exploration encompasses projects where we delve into novel datasets and approaches to support the unique scenarios of our partner organisations. In this area, we focus on exploration capabilities and assessing data quality. We support our partners to get started with data analysis and interpreting insights, before advancing into complex techniques. Moreover, this area allows us to explore new data and AI tools and methodologies together with our partners.
Related projects
Conducting social network analysis using

call detail record data

of cases at the International Criminal Court. 

Retrieval of atypical transactions of World Food Programme's digital cash programme and monitoring population movement to

detect possible fraudulent behaviour

in Lebanon. 

We explore whether data from wifi usage on the TU Delft campus can be used to help determine efficient room allocation. 

Improvement and implementation of students performance analysis platform for Leiden University.
Tools and Services
Want to learn more about how we use Data & AI for Social Impact?
People: Using our holistic approach to Data Responsibility, we empower your staff to understand how data is collected and used in your organisation and make good decisions about their own data use. We build these skills through training, workshops and learning experiences tailored to the specific needs of your organisation. 
Process: We work with organisations to review data collection and use strategies and identify gaps in guidance and policies. With this information, we give recommendations for implementing responsible and effective data use through policy change and building individual skills to make responsible decisions.
Technology: We work with you to determine the requirements of your products using human centred design approach. We analyse your problem(s) through qualitative and exact methods, conduct comprehensive analyses using state of-the-art AI techniques and deliver prototypes accompanied by reports that give you insight through analyses and data visualisations. 
How we put people first
Our experts are committed to user-centred design. We take a holistic, multidisciplinary approach to identify and solve problems by rethinking ways of working, implementing technology, building applications, running workshops and giving policy advice. By taking a critical eye towards the problem we're trying to solve, we prioritise user experience throughout every project lifecycle.