Future Foresight: The Innovation Maturity Model
Welcome to part three in our series on Future Foresight. To discover more about Future Foresight as a methodology, see our first blog. To delve into our pilot project in which we applied Future Foresight within an educational, university-oriented context, see our second blog on the Royal MetaUniversity of the Netherlands.
At LLInC, one of the methodologies we follow is the Innovation Maturity Model – a model which demonstrates the different phases in innovation, namely ideation, experimenting, scaling the experiment, decision making, and establishing. One of our projects which has gone through these phases with curious, thought-provoking results is Future Foresight.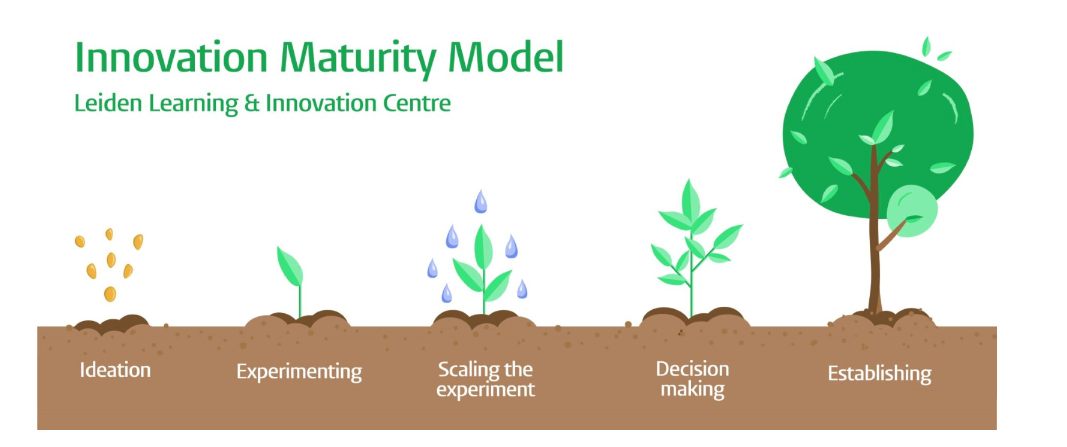 IDEATION
In 2021, we were inspired by the Coursera MOOC 'Collaborative Foresight: How to Game the Future', developed by the Institute for the Future. In the midst of the pandemic, we discovered that there were thousands of people who had been largely prepared for the scenario at hand due to self-implemented Future Foresight techniques.
At that time, our team was focusing on the concept of playful learning and therefore these techniques were only a small step out of our comfort zone. Accordingly, we began to design an experiment which would fit well with LLInC's (previously Centre for Innovation) expertise in Learning Design and XR. 
EXPERIMENTING
Our first step in this 'experimenting' phase was to test out some activities in collaboration with the in-house Learning and Innovation team. We did three small exercises:
First

we created a Future Wheel with the scenario that an

Immersi

ve campus

was fully integrated in the Univ

ersity.

Secondly, we looked

at the positive and negative aspects of a university so inclusive as to allow

students to create their own

study program – they could to choose which course to follow as well as the type of examination.

Lastly, we assessed

 

four feeling

s (happy, nervou

s,

angry

and thankful), having considered

the scenario that the earth is heating up faster than we think. In the Netherlands, we would have summers of 45/50 degrees

cels

iu

s

.

 
Since, overall, the response was positive, we decided to go further by testing it out with the entire LLInC team. To do so, three colleagues with varied backgrounds developed an online scenario titled the Royal MetaUniversity of the Netherlands – a thought-experiment about what the university would look like within an immersive campus context. You can read more about both our experiences and lessons learned in our second Future Foresight blog.
To say that the Royal MetaUniversity failed would be something of an understatement but – based on the feedback we received – we were able to simplify our approach and develop key objectives for going forward. Our next step would be to design a workshop on Future Foresight. 
SCALING THE EXPERIMENT
Having tested several concepts across multiple settings, it was time to trial the Future Foresight workshop in the 'real world'. In June, we were given two opportunities to do so: one at a conference centred on Violence Studies and another during the LXDCon.
Having faced two completely different target audiences and modes of instruction, we felt confident that we had been able to thoroughly test the workshop and its activities. To fine tune yet further, we then tested the Future Foresight methodology with the different in-house expertise available (learning design, gaming design, future-oriented thinking etc.). DECISION MAKING
Making the decision of whether to continue with Future Foresight wasn't as linear as it might appear in the maturity model. Following the Royal MetaUniversity project, it was clear that we needed to adapt and simplify our approach. During the one day between the Violence Studies and LXDCon workshops, we therefore made some minor alterations. 
With time, more opportunities began to appear on the horizon, demonstrating other parties' steadily growing curiosity towards our topic and methodology. Moreover, having observed an increase in both excitement and development in our professional and personal lives while working on the project, we sensed we were on the right track. 
ESTABLISHING
And now we've come to the last step: establishing the methodology within the university. Internally, we are working on a list of futures we want to explore further and which we believe key to the future of Leiden University. Not only are we hosting a workshop at the SURF Onderwijsdagen on Tuesday November 14th but we are also currently running a Leiden Master's Honours Class on the topic of Future Foresight. We even have Future Foresight workshops available for Leiden University staff and others interested.
Our next and final blog will focus upon the potential future scenarios which we perceive most applicable for the Leiden University department of LLInC. In the meantime, however, if you are a teacher or other professional who would be interested in finding out how Future Foresight can help in your job, please don't hesitate to reach out to us through Yentl Croese at: y.croese@llinc.leidenuniv.nl