Projects
Agile methods in a knowledge-based economy
Founded by Dr. Christoph Johann Stettina of the Centre for Innovation at Leiden University, Agile for excellence is an initiative that has acquired numerous partners since its inception in 2015. These partners come from various industries and fields of work both in the public and private sector.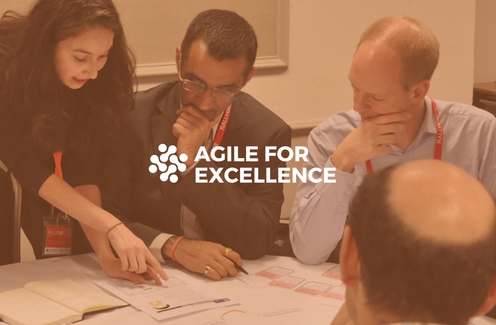 With a backdrop of increasing technological disruptions, and all the consequences which that entails in job markets and workplaces, we organise with our partners trainings, courses, and events to explore ways that modern project-management can be optimised, as compared to an outdated work culture that originates in project-management styles of the industrial era. Back then, civil engineers strived for a classical management approach that prioritised predictability. However, we find that the process to construct an oil-rig is essentially different to that of the development of twitter, for example, or the process to write a scientific article.
Our work and research
Knowledge related work must account for unpredictability, and to foster the emergence of unpredictable human creativity and desired behaviour, our ever-ongoing research tends to lead us to encourage a work model of project management which emphasises a culture of effectiveness, team orientation, commitment and transparency.
We believe that innovation is created in a sequence of interactions of actors across different domains of practice. Innovation is not something that can be fully predicted and dictated in a top-down manner, however, the process can be supported by structure (e.g. team based work), behaviour (e.g. frequent feedback loops) and values.
Effectiveness and customer satisfaction – The ultimate goal of each project is the realisation of value. We believe that this can be best achieved in close co-creation with the customer and relevant stakeholders.
Learning – Learning is one of the cornerstones of agility. It is the ability in identifying weak points and improving own ways of working. Multilevel and multifunctional learning allow team members to acquire broad knowledge outside their direct product scope, allowing the team to respond quickly and to solve problems fast.
Team orientation – Team based allocation of work helps to develop capabilities and removes unrest in allocation of (human) resources. Cross-disciplinary project teams have been found successful while studying product development projects and have since then been confirmed to have high productivity and increased speed in problem solving.
Collaboration – Increased collaboration across the domains of practice is frequently associated with agile methods. In order to establish such a shared vision the actors need to be willing to collaborate across their domains to establish and pursue a common vision.
Transparency – Linking strategy to budget and projects is a major goal of multi-project management. In a network of interconnected human actors transparency helps to improve trust and to establish an effective collaboration.
The Agile management revolution
The Agile for Excellence initiative is committed to the silent revolution that Agile method have been causing across industries in the way that innovation projects are organised and executed. Our ongoing collaborations with our partners and our position within Leiden University enable us to conduct research and publish our findings- therefore developing our methods and toolkits in line with industry and technological trends. Compared to traditional plan-driven project management methods, Agile methods embrace project environments as uncertain. They enable co-creation through an iterative delivery of intermediate project results – rather than assuming the predictability of projects and a linear sequence of steps from project definition to delivery. We find that partners who implement these methods not only contribute to researching how to develop them further, but also reap the benefits of how highly successful these methods are in practice.