Insights
Facilitating Discussions for Effective Online Learning
At the Centre for Innovation we promote active learning in any way possible. We look towards the digital future of learning and we prioritise putting people first. This means that the experience of online learning is paramount. Interaction between students and with teachers is invaluable to a positive, impactful learning experience. We believe discussing online, as part of an online or blended course, can tremendously benefit students and teachers.
People often do not want to interact. This point was emphasised by Eric Mazur at the Learning and Teaching Academy Conference in 2017, and it stood out to us. We suddenly saw this tendency everywhere: in a group, people sit back and avoid speaking up. People scroll on their Facebook or Linkedin pages without responding other than a like. However, when people do interact they leave a room with energy and enthusiasm. Not only that, people tend to remember much more if they process information by talking to others about it.
Active Learning while reading literature
Using the tool Perusall, Maurijn van der Zee, teacher of biology at Leiden University and one of the instructors of the MOOC Evolution Today, is letting his students annotate research articles that are assigned before class. They can ask questions, and help each other in threaded discussions, asynchronous postings online in the platform dedicated to a particular subject. As a teacher Maurijn keeps away from the discussions, but instead answers misconceptions and shares good observations from his students in his classroom. Not only does Maurijn make sure that his students have actually read the prescribed literature, he is also able to observe where the misconceptions are, who is active and how the thinking amongst his students is evolving. Perusall gives him the tool to deepen the conversations with his students in class and see how engaged they are.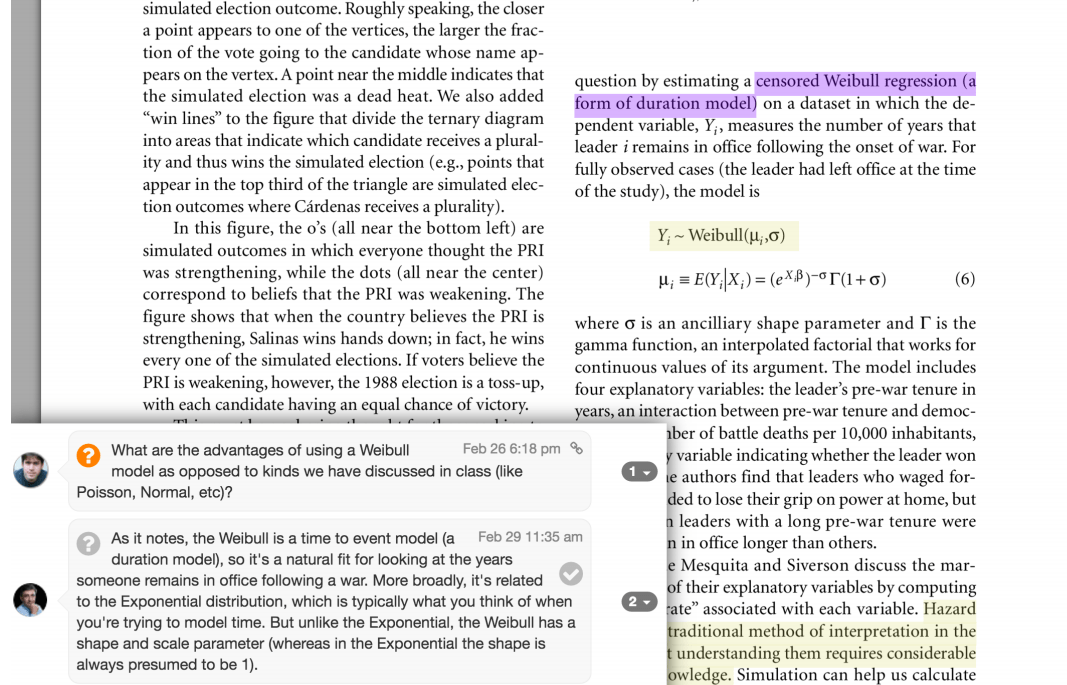 Perusall in action
Knowledge Jacuzzi, or the Community of Inquiry
Professor Dr. Maurits Berger teaches Islam in the West in private online courses at Leiden University and the Leiden Islam Academy, supported by Centre for Innovation, and has been looking at strategies to teach controversial topics. In the classroom students often prefer to remain silent or at least very politically correct during such discussions. An online environment can feel safer, in part because students can express themselves anonymously. Answers to discussion prompts and surveys give the teacher research data he or she can then give back to students in the next round. This continues the conversation on Islam, whether on discussion forums, through submitted essays or sharing resources like Youtube videos.
"I feel like the administrator of some kind of knowledge jacuzzi. It bubbles and buzzes. The only thing I do is make sure the temperature is mild and the jacuzzi doesn't boil over," he told the audience at SURF onderwijsdagen 2018.
Berger demonstrates the Community of Inquiry framework with this anecdote. A course is a learning experience that is more than just a teacher sending out knowledge, but consists of a safe but  lively community where both interactive social activities and learning are taking place.
Space for Introverts
Students need courage to ask a question out loud during a lecture. If a student can ask their question online, the process of inquiry becomes less nerve wrecking. Allowing online interaction can greatly improve engagement for introverted students.
Sarita Koendjbiharie, who as a teacher of Leiden University's International Studies teaches an online course about organisational theory for the students' internships, finds that online interactions means she also gets to know people even without meeting them: "sometimes a student comes to me like we already met and then I realise… it is the same person from an online discussion and I recognize her from her picture".
Frequently Asked Questions
1. Does promoting interaction cost a lot of time?
It does not cost more than the time you normally take to teach. If you are giving an online course you should expect to spend the same time online.
2. Do I need to monitor my courses 24/7?
Interaction should be part of your course design. You can then support it by setting aside time on your calendar to reply to discussions every week, either by writing a post or making an informal video chat. Replying to all posts, or immediate reactions is not necessary and would even kill interesting discussions.
3. How do I handle passive students?
You can reach out to them in a private message asking if they need assistance.  Not only will this help them over a hurdle, you clearly reinforce your expectations. With controversial topics it may also help to allow students to react anonymously.
4. What if students give each other the wrong answer?
Students give each other wrong answers face-to-face all the time, in places where you may not even hear them. The difference is that online you can see what misconceptions exist. You can then address the misconceptions in your follow up, whether that is a video, or a class discussion.
5. What if students complain?
It is true that students in evaluations can be critical of new forms of (digital) learning. They may not have encountered it before which makes them uncertain, or it requires them to work harder.  It helps if you clearly explain beforehand why you as a teacher believe that activated learning is a quality improvement and how that fits your institutes vision on learning. Also clearly state your expectations of the students participation.
Take action: get more discussion going in your course
The Centre for Innovation works with Machiel van der Heijden on the private online course Research Design in Public Administration. He emphasises that teaching online is a skill: "When I just started, I responded to every post, which then stopped other students from responding. It is a skill to be able to bring an online discussion alive and keep it going… [One strategy I use is to] finish every reaction with a question."
Is there a magic formula for a successful interactive online course?
Learning innovator Professor Dr. Gilly Salmon is the previous Pro-Vice Chancellor of Education Innovation at the University of Western Australia.  As Salmon demonstrates in her 5 stage model, accessibility is the first bridge that students have to cross in an online course. Increasing accessibility doesn't just mean offering technical assistance to students who try to log in and attempt to navigate the platform. There also needs to be someone acting as a host. Onboarding students is an important task, so it is vital to make them feel welcome and comfortable in this new and intimidating environment by personally reaching out in a private message and allowing for some general socializing in the forum. Teachers can help students over the first hurdle of posting something by letting them introduce themselves, which creates familiarity with each other and a sense of community.
Just like on campus face to face contact, class size matters. For a Small Private Online Course (SPOC) try to limit it to 20-30 participants. Both teacher and student find this size comfortable and it allows individual attention.
The second step is designing your discussion prompts for the actual learning, for which Dr. Salmon provides the E-tivity model. As online text lacks visual clues, you will have to be extra clear on what your expectations are for this exercise. Make sure you have an inviting title, and spell out what exactly you want students to discuss, how many words and what concepts to use. Also prod them to react to others. Finally, do not forget to add something to spark debate This can be an anecdote or story that triggers a response.
Reality dictates that you ought to assign a grade to discussion participation. Students are very economic in what they spend their time on, and often will skip exercises that are voluntary. While attaching a grade might impact the creativity of a reply, it does ensure full participation in class.
Forums, or discussion boards, are not the only form of interaction between students and you can explore other options. Think of webinars, group work, reviewing each other's essay and even discussing anonymous surveys among the group, as shown by Amber Herbert, professor of Education at Park University, Kansas, USA.
ADVICE FROM THE EXPERTS
Social or Collaborative Learning is an important part of the entire palette of learning possibilities for students and fitting for an academic setting. You can add a variety of activities to your course with some foresight, and with actively monitoring your course you can promote success. Be brave, be social!
Get in touch with the authors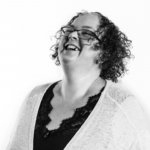 Tanja de Bie
Online Learning Expert
t.de.bie@sea.leidenuniv.nl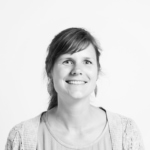 Annemieke van den Bijllaardt
Open & Online Learning Expert
a.m.e.van.den.bijllaardt@sea.leidenuniv.nl