Insights, Projects
Government Innovation Series: Design Thinking for Public Organisations
"Design thinking is a human-centered approach to innovation that draws from the designer's toolkit to integrate the needs of people, the possibilities of technology, and the requirements for business success." —Tim Brown, Chair, IDEO
Government Innovation Series
Alongside UBR, the Centre for Innovation is working on a number of initiatives to encourage government innovation. From the outcomes of the collaboration so far, we have developed an extensive toolkit for organisations to use to innovate. The toolkit prepares organisations to respond to societal developments through innovation and is packed full of tools, guides, and methods to encourage such processes. The contents of the toolkit can support organisations from problem identification to identifying a plausible solution. It has multiple tools for each step in the process: (1) to analyse problems and contexts; (2) generate ideas; (3) validate solutions. Moreover, the toolkit also offers comprehensive plans for suggested workshops to facilitate implementation of the tools. 
Go to the Innovation Toolkit (opens in a new tab). 
In the Government Innovation Series, the Centre for Innovation will focus on highlights from the project. This article zooms in on how to adapt design thinking to work in government contexts. Interested in finding out more about government innovation? Read our article on adapting innovation canvases for the public sector.
What is Design Thinking?
By now, you have probably heard the term 'design thinking' somewhere. What started out as a methodology to design products ranging from coffee cups to train seats has now been adopted by businesses and governments as a methodology to stimulate innovation (Tschimmel, 2012). 
Why design thinking has become so popular in other sectors can be attributed to its core principles. Design thinking is human-centered, holistic, co-creative, and gathers evidence by starting small, failing fast, and learning from experience. When working in a complex organisation Design thinking helps you to get away from your desk and go into the field. Instead of thinking about what your audience needs, you ask directly for their input and co-create products and services with them. Instead of spending years writing a plan for action, you start with action and adapt your approach as you learn more about what your audience needs and wants. 
Design thinking can be applied to many problems and contexts. When starting with design thinking it is important to take into account "the characteristics of the innovation task, its context, the number and composition of the team and its dynamic, and the available time for the innovation process" (Tschimmel, 2012). Together with UBR, the Centre for Innovation adapted many of the different Design thinking frameworks (IDEO, Standford d.school) to a framework fit for government organisations.
Our Design Thinking Framework
The framework has four distinct phases. First, start with a clear understanding of the problem and end-users. Second, formulate innovative ideas on how to solve the problem. Third, prototype ideas with the end-users and exploring what steps it would take to implement them into the organisation. Finally, validate (or iterate) the suggested solution.

To encourage UBR employees to experiment with design thinking, we developed an innovation toolkit (in Dutch). This toolkit facilitates the first phase of innovation within organisations: moving from problems to ideas for innovative solutions. (Curious to what the next phase can look like? Read about it here). To support the innovation, we trained four teams enthusiasts from UBR to work with the design thinking process and to use our toolkit. In the next update, I will share our experience in facilitating a 2.5 day workshop on design thinking.
Get in touch with the author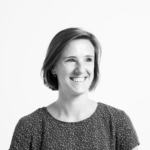 Daniek Bosch
Learning Experience Design
d.bosch@sea.leidenuniv.nl