Insights
Harnessing the collaborative power of peer learning
In monthly workshops, Skills for Science Based Business, the Centre for Innovation provides a peer learning environment for students on internships. Students join 3-hour workshops, facilitated by Cameron Hope and Niels van de Ven. During these sessions, students create a learning trajectory for their own skill development, get assistance and guidance from peers, and create online resources that can be passed on to future students.
Peer learning enables students to both teach and learn throughout the course. Besides the skills they define for their own trajectories, peer learning promotes a wide array of skills including coaching, planning, and self-reflection. This approach also provides motivation, accountability, and support from colleagues who are facing similar challenges.
Peer-to-peer learning is all about sharing the experience of learning, not just the outcome. The sessions are designed to create productive matches between the students. For example, students who work in the same industry might discuss strategies to adapt to a new body of knowledge. Another common example is that all students who have big presentations coming up work together to exchange best practices.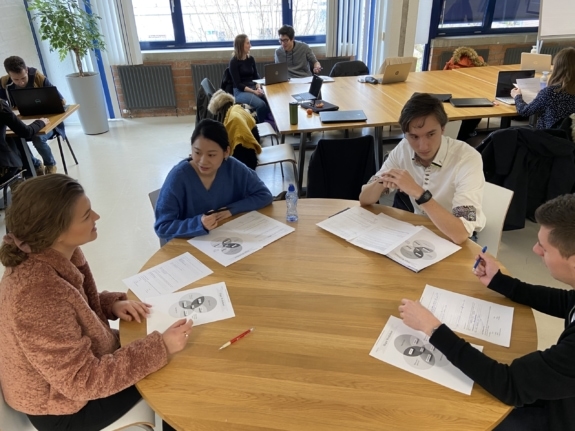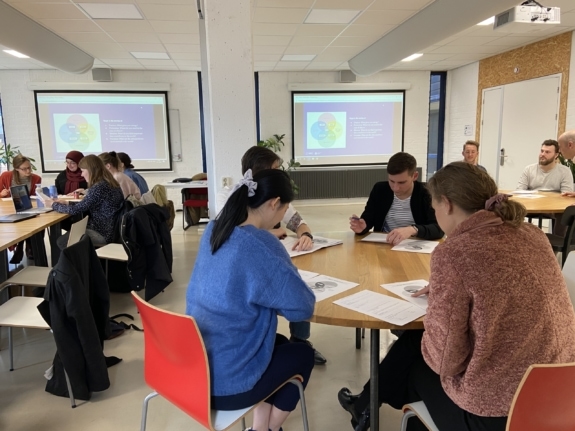 The peer group is an enormous resource of knowledge and experience: the only challenge for the teacher is to facilitate the students' independent work, and how to make sure the lessons learned can easily transfer.
To do so, the teacher of the course acts as a guide of the classwork, asking probing questions, and helping jumpstart ideation. After all, teachers cannot be expected to be masters of all skills, and nobody can better advise a young professional than a colleague in a similar situation. Then, to make sure the tips and resources are captured and shared, students all collaborate on defining and creating an online skillset database.
The backbone of this database is the skill framework developed by the VSNU. It covers 32 different skills spanning a range of clusters, including personal effectiveness, analysing and devising, and, communicating and influencing. However, as students develop their own expertise on any given skill, they suggest additions, subtractions, and alterations to the skill.
Over time, the skillset itself evolves, to reflect the wealth of new ideas and experience that students gain during their internships. The resource is a living document, continually evolving and changing to reflect the latest knowledge and insights that the peer group gains.
The course was first run in 2018, and was very well reviewed. By soliciting continual feedback, the course is always evolving, and students are able to shape the flow of the workshops to better suit their objectives.
Using peer learning to unlock the power of collective knowledge, students in the Skills for Science Based Business workshops are empowered to create their own objectives, and work collaboratively together.
Get in touch with the author

Cameron Hope
Research & Development
c.a.hope@sea.leidenuniv.nl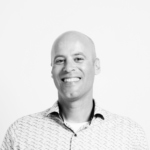 Niels van de Ven
Education Manager
n.j.c.van.de.ven@sea.leidenuniv.nl