Projects
Behaviour, (not) an issue: observing a dementia patient's behaviour in context
In September 2017, director of the Elderly Care Physician (ECPT) training program from the faculty of Public Health and Primary care, Michelle Kromhout (among others) applied to the Centre for Innovation's call for project ideas in the 360° VR Pilot program. Working with Michelle and her team, the CFI researched the potential value of virtual reality for innovation in training of elderly care physicians.
The virtual reality experience Behaviour: (not) an issue, referred to by the applications original name in Dutch: Gedrag: (G)een Probleem, offers users a unique insight into behavioural symptoms of patients with dementia. Together with the LUMC Elderly Care Physician (ECP) training program, The Centre for Innovation created a role-playing exercise where students can experience different situations related to daily ins and outs of a patient with dementia. These various contexts are presented through interactive 360° video and photography to give students the opportunity to practise the analysis of a patient diagnosed with dementia. In this way the Centre developed this application to provide the ECP's in training with a better understanding of how a problematic situation arises and develops. We additionally worked to incorporate this understanding in the students' analysis and assessment of a problematic situation.
Behaviour: (not) an issue | Project Details

Partner: From the Elderly Care Physician Training Program at LUMC: Mw. drs. Michelle Kromhout (Deputy Head Elderly Care Physician training program, initiator), Beatrijs de Leede
(educationalist), Yvonne Martens (lecturer), Prof.dr. Wilco Achterberg, dr. Victor Chel (Elderly Care Physician training program).
Main target group:  Resident doctors in training for the Elderly Care Physician specialization (ECP's).
This project is a result of the 360° VR Pilot Program that was initiated by the Centre for Innovation in 2017. Aim of the program is to explore the potential of 360° video based VR experiences for teaching and learning in academic education. After selection, six pioneering applicants from different faculties at Leiden University were invited to take part. In each project, the applying faculty members acted as partner and together with the Centre for Innovation created an innovative learning experience for their educational challenge. Read more about the 360 VR Pilot here.
Educational Challenge
One of the responsibilities of an ECP is analysing a patients behaviour in context. This includes contribution of physical, psychological, social and environmental factors. As the behavioral symptoms are rarely present in the presence of an ECP, the ECP has to rely on information and interpretations given by others, such as. nurses or informal caregivers. Before we developed this application, ECP's in training practised analysing behaviour with textually presented case studies. According to students' and teachers' experiences, this method lacks presence, empathy and connection with reality.
With this project, the research team's goals were to let students face problematic situations of patients with dementia during their training in a way that would be impossible without a virtual reality experience. Students should become acquainted with patients' behaviour in context. We prioritised that the experience should increase awareness of real-life situations, supporting a more accurate and more holistic view on how problematic behaviour amongst dementia patients develops.
An immersive journey showing a patient's behaviour in context
Unlike the original teaching approach where information is provided through written case studies, exercises supported by the virtual reality application Gedrag: (G)een probleem are realistic experiences that foster empathy with patients and their caretakers. Therefore, the application offers a connection between theory and practice in a controlled situation.
In this project students experience both the behaviour in context as well as the way the behaviour is described by a caregiver in virtual reality. The project's aim was to familiarise medical students in training for elderly care. The experience needed to show challenges faced by dementia patients in regards to the illness itself, difficulties in communication with caregivers and the perspective of family members.
For the design, the CFI team took the following conclusions as starting point:
ECP's in training need to get insight into the point of view of all stakeholders (nurses, family members, etc.) in order to be able to combine information coming from these different channels to holistically analyse a patient.

ECP's need familiarise themselves with behaviour of patients suffering from dementia in context to see how behaviour arises and develops potential risk factors in the surroundings.
Based on these assumptions, we decided to create an experience that provides a peek into a patient's life and environment from different points of view. The experience is divided into two case studies: a situation at home and a situation at an elderly care house. Each case study contains two separate scenes.
The following situations are included, described from the point of view of the user:
Case Study 1
1.1 A bystander (passive family member) visiting a patient's birthday in their home.
1.2 A doctor visiting a patients home to analyse the living environment.
Case Study 2
2.1 A bystander (fly on the wall) observing a patient's behaviour and their environment in a nursery home.
2.2 A doctor visiting a nursery home to talk to one of the nurses about a patient.
During a workshop, students work in pairs and each of the students is exposed to one of the scenes, that represents different points-of-view. The students take turns being a doctor, a family member or an observing caretaker. After they go through the experience, students gather to discuss their observations.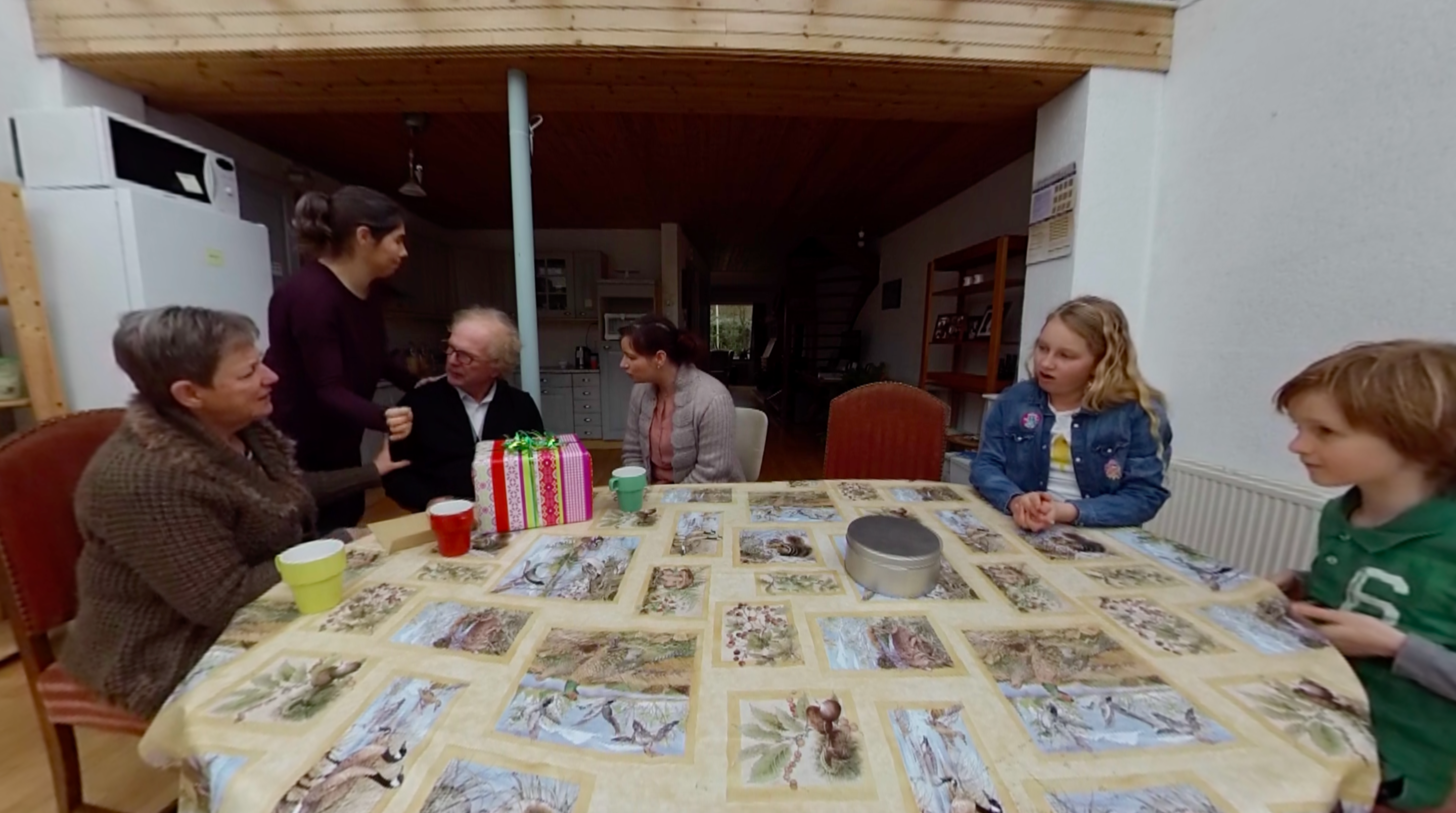 Snapshot from scene 1.1: the user acts as bystander (passive family member) visiting a patient's birthday in their home
Implementation
The application has been tested by both medical students as well as professional doctors. We have also  shown Gedrag: (G)een probleem at several events, such as the inspiration festival for employees of the healthcare organization Topaz and to participants of the executive master program on Vitality and Ageing of LUMC. From august 2019, the application will be implemented in the general curriculum of the Elderly Care Physician training program of LUMC. The Centre for innovation looks forward to seeing the application being used in this learning and teaching environment and we hope to gain more insight into the project through feedback gathered from implementation. In the future, we believe more interesting opportunities will arise from applying virtual reality to the theme of elderly care.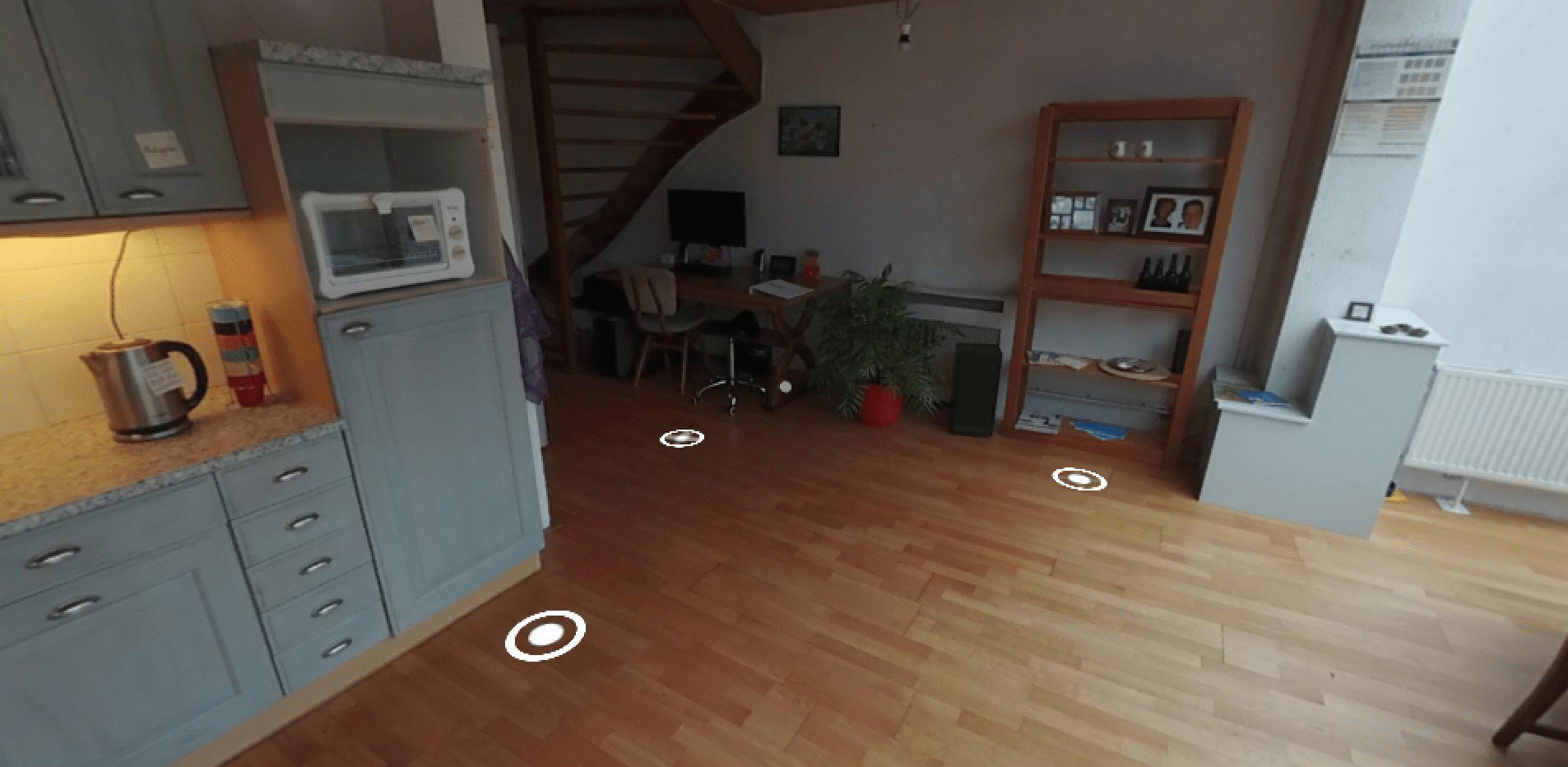 Snapshot from scene 1.2: the user acts as doctor and can walk through patients home to analyse the living environment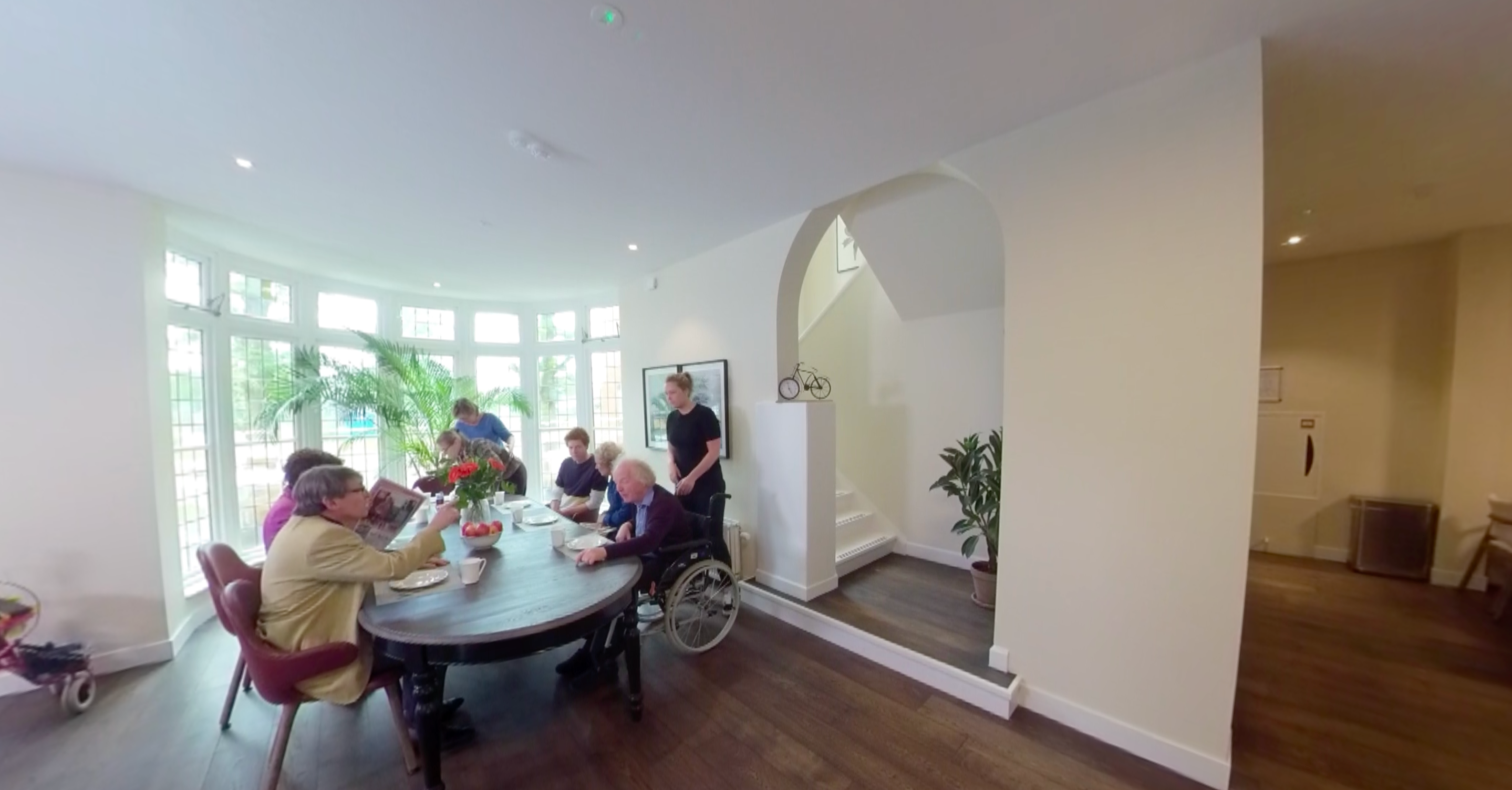 Snapshot from scene 2.1: the user acts as bystander (fly on the wall) observing a patient's behaviour and their environment in a nursing home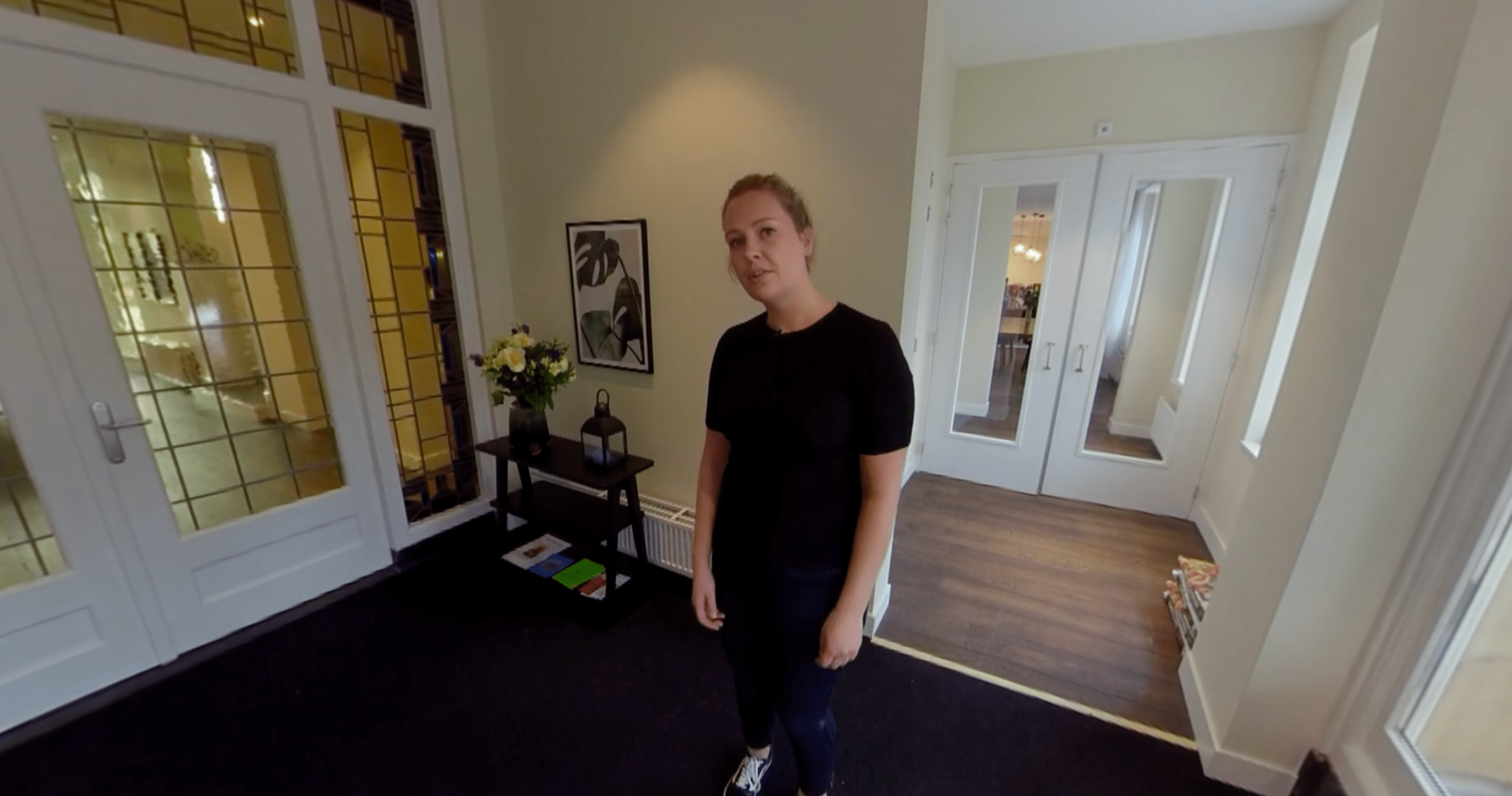 Snapshot from scene 2.2: the user acts as a doctor visiting a nursery home to talk to one of the nurses about a patient