Projects
The Future of Experiencing the Past
The Archeology faculty experiments with innovating their teaching methods, using 3D scans and visualization technology to enable active learning.
"… it makes archeological material more accessible, especially with
fragile material, it allows nearly anybody to analyse.." – Pilot participant
Piloting Digital Artefacts in the Classroom
On 10 December, the Faculty of Archaeology at Leiden University held a pilot class to test the use of new technologies to enable active learning. The workshop, "The Future of Experiencing the Past", was taught by Dr. Schats and M. Revello Lami, and gave students a first experience with 3D visualizations of archaeological artefacts. 
The pilot was attended by students from different education levels. After a short introduction, the lecturers highlighted relevant details on a selection of archaeological objects by projecting their 3D models on a touchscreen. Afterwards, students were able to interact with the 3D scans and analyse them in greater detail. Real pottery fragments and skulls also accompanied the 3D scans.
Digitising Leiden University's collection
Leiden University is home to an exceptional archaeological collection. But it is not easy to use this collection in active teaching, as the objects are often small, unique, fragile, or carry ethical responsibilities. Currently, this is solved by purchasing expensive replicas of similar objects, but these objects are often didactically inferior examples to those housed by Leiden University.  
Through the SALTSWAT project, driven by the Centre for Innovation, a group of trailblazers  – Rachel Schats, Martina Revello Lami, Marie Soressi, Wouter Kool, and Alicia Walsh – are piloting a new solution. By using photogrammetry and 3D scanning to make our collection accessible for use in the classroom, the team not only supports active learning, but also pushes Leiden University Archaeology forward in the world of research.
The Opportunities of New Technologies
For the pilot class, example objects were made accessible through an embedded 3D model publishing platform link (Sketchfab) and hosted on learning management software, Brightspace. Students could easily explore multiple 3D scans on their laptops at their own pace. 
Displaying artefacts in this way opens new teaching opportunities. The object can be examined in different ways, and the display options can make difficult to visualise information clear and accessible. The scans being made by the team are of very high quality. This means the artefacts can be examined in extreme detail. They can be manipulated in a digital space, including by magnification, while annotations added by teachers can draw attention to key features.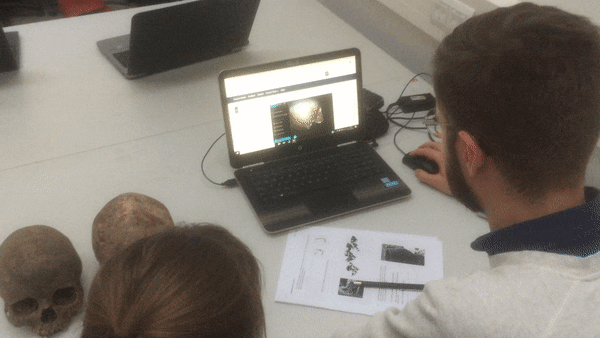 Creating the scans and making them accessible in safe and responsible ways is the achievement of 3D modeller and archeologist Alicia Walsh. The pair have been working on the 3D scanning of the objects intensively for several months and benefitted recently from the help of Igor Djacovic.
Putting the Scans into the Classroom
The pilot class confirmed the efficacy that 3D scans have in an educational setting. This technology is often used in research, but Schats, Revello Lami, and Sorressi have been eager to make the transition into the classroom. 
As teaching tools, 3D scans offer several advantages over 2D images or plaster casts. First, teachers can easily magnify details on screen in front of the class. Due to the easy manipulation of the digital artefacts, the object can be seen from a more realistic perspective. Second, as adding annotations is simple, students can easily identify the most relevant details while browsing the objects. Third, viewing settings like 'Matcap', more clearly expose the shape and texture of the artefact. Details such as carves and damage that would not normally stand out on physical objects or casts were made much more evident. 
The use of 3D visualizations allowed students to work with more objects than traditional teaching methods using physical objects. In addition, objects that are too fragile to be handed out in class could be made available for analysis through 3D scans. 
By making the 3D scans available through Brightspace, students can access the objects at any given moment and study or analyse them at home, providing them with the unique opportunity to 'take the objects home'. Scanning objects from the university collection allows teachers and students to work with more examples in class than ever before, each with a greater level of accuracy than before. 
One of the pilot participants also noted that working with 3D scans of skulls instead of handling real skulls in class could be considered a more ethical way of treating them.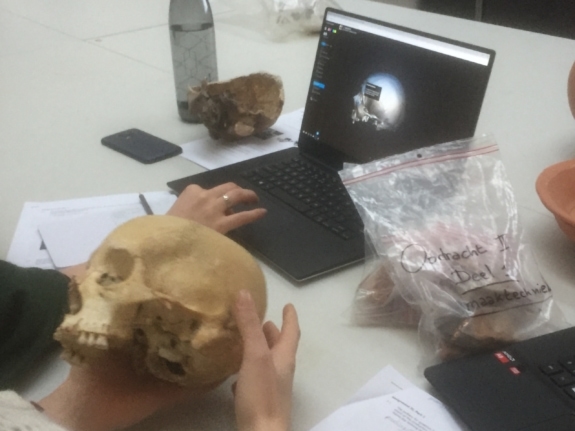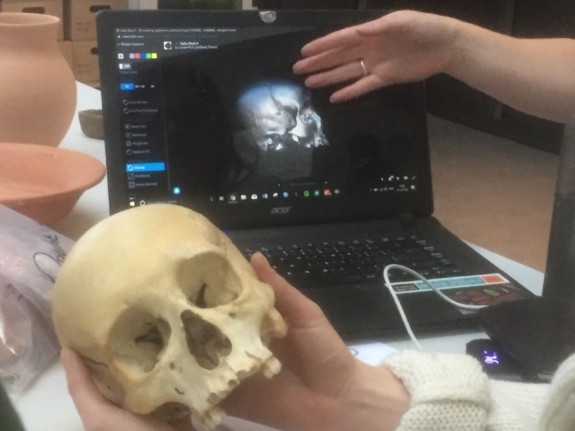 Future and ambition
Following the pilot class, students gave feedback suggesting improvements and ideas for future ambitions. Overall, the pilot was successful and rated highly in the evaluation forms, and several ideas came out of the discussion. 
Three areas for focus are: first, further improving the user experience, perhaps by using tablets, or touchscreens to manipulate the model; second, improving the visualisation, by having higher resolution beamers and smartboards, and; third, expanding the pilot to cover all areas of study in the Faculty. 
Emerging technologies might also give opportunities for innovation. Augmented Reality hardware, such as the Microsoft Hololens, may radically transform the classroom in the coming years. 
Leiden University has a world-leading artefact collection and by making 3D scans of the collection accessible online, Leiden University has the potential to drastically change and improve how Archeology is taught globally.
Get in touch

Cameron Hope
Research & Development
c.a.hope@sea.leidenuniv.nl